Tapping 2020 Trends with the Ingredient Consumers Crave
Haley Carson
• Mar 23, 2020
Author: Lu Ann Williams, Innova Market Insights
Each year, Innova Market Insights, global food trends specialists for more than 25 years, identifies the top trends impacting the food and beverage marketplace in North America and around the world. These insights are based on Innova's tracking and analysis of thousands of new product launches and provide inspiration to innovate and evolve new and existing products.
Due to their versatility, nutritional profile and consumer appeal, almonds can play a key role in food and beverage launches that tap Innova's Top 10 Trends for 2020. A recent study by Innova found that almonds are the leading type of nut in new product introductions and the number of new product launches with almonds has tripled in the past 10 years, confirming their timeless appeal to consumers. Here, a deep-dive into how almonds fit with five of the trends driving food and beverage development:
Trend 1. Storytelling: Winning with Words
The 2020 consumer is increasingly captivated by the stories behind food and beverage products. A product that communicates the provenance of its ingredients, for example, helps support a story of authenticity, quality, and transparency. Storytelling can highlight not only the taste and quality of products but also their uniqueness, sustainable features, processing methods, cultural and traditional backgrounds, and geographical origin.
Many products featuring almonds tell the story of their ingredient provenance with a "California almonds" statement front-of-pack. Package claims are a form of storytelling that highlights the appealing features of California almonds – natural, plant-based protein that is great tasting.
Trend 2. The Plant-Based Revolution
Plant-based eating, a growing and recurring theme in Innova's Top 10 Trends, is moving from trend to food revolution status as the industry is taking up the challenge to deliver more "clean label" meat and dairy alternatives with improved nutritional profiles. Consumers are interested in health, sustainability and ethics, which tie into the broader consumer lifestyle trend towards cleaner living through consumption of plant-based foods and beverages. Food and beverage launches with a "plant-based" claim show strong growth of 68 percent annually (Global, CAGR 2014-2018) and vegan claims, including in products with almond ingredients, also are growing.
In plant-based products, almonds satisfy consumer desire for simple ingredients that they recognize and understand. Introductions of products with almonds outperform total food and/or total nut introductions in plant-based meat substitutes, spreads, and plant-based milks and yogurt. The 33 percent average annual growth of almond-based dairy alternatives (CAGR, global, 2014-2018) includes a strong presence in spoonable non-dairy yogurts, cream and creamers, and drinking yogurt and fermented beverages with almonds.
Trend 3. The Sustain Domain
Consumers increasingly expect companies to invest in sustainability in areas such as renewable energy, recyclable plastics, and food waste reduction. The California Almond Sustainability Program supports sustainable almond farming that utilizes economically viable production practices based upon scientific research, common sense and a respect for the environment, neighbors and employees. The story of the industry-wide commitment to sustainability can be highly appealing to consumers and noted on packaging
Trend 4. The Right Bite
Consumers who are managing busy lives look for products that help them maintain healthy lifestyles and support their wellness priorities. Bars, which are easy to pack and consume on-the-go, are a popular platform for almonds and one quarter of consumers say that "health is the factor I pay importance to when buying bars." Due to their nutrient profile, almond-containing bars and other products often feature numerous claims pertaining to general health, macronutrient content, and, increasingly, functional properties and sports performance.
Trend 5. Tapping into Texture
Consumers increasingly recognize the influence of texture in food and beverages on sensory experiences and feelings of indulgence. According to Innova Market Insights research, 45 percent of US and UK consumers are influenced by texture when buying food and drinks, while 68 percent say that textures contribute to a more interesting food and beverage experience. When roasted whole, slivered or chopped, the natural crunch of almonds partners beautifully with ingredients such as chocolate and cereals to create an indulgent and craveable texture combination.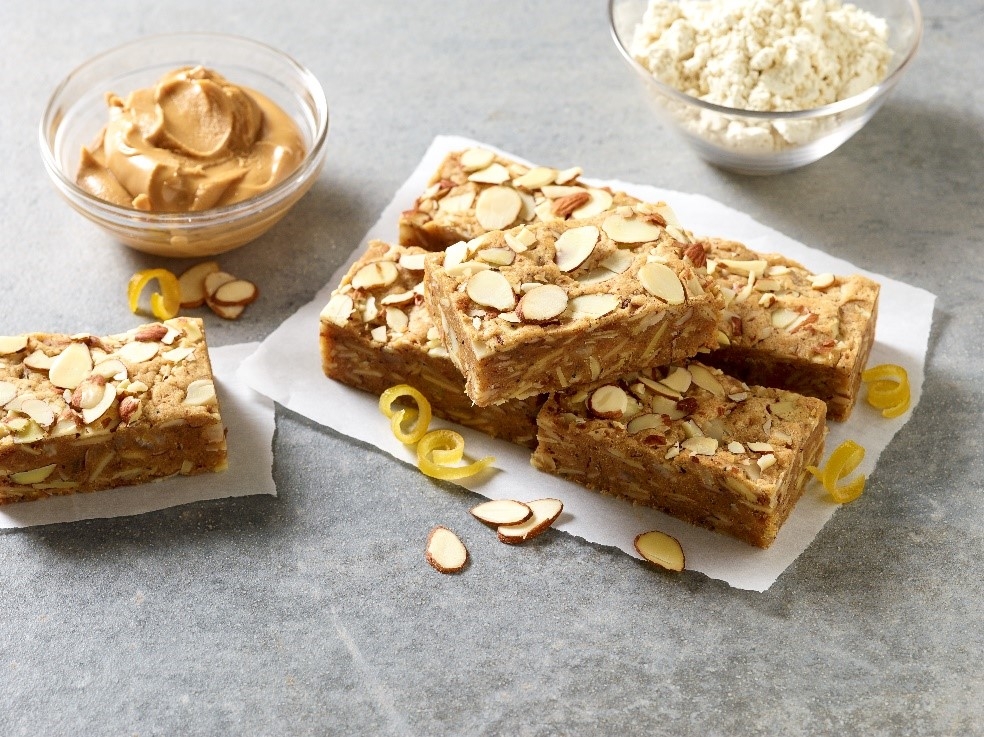 Image caption: Almond Yuzu Poppy Seed Bar by Chef Rob Corliss of All Things Epicurean for Almond Board of California.