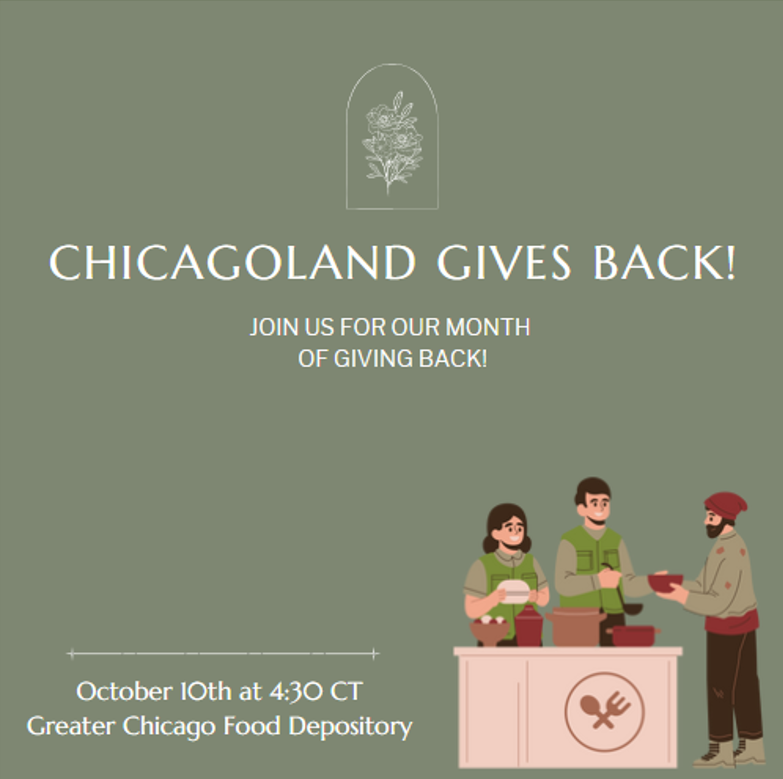 Chicagoland Gives Back!
Oct 10, 2023
16:30 pm - 18:30 pm | Central
About this event
Come out and network with your RCA colleagues while raising money for a great cause for our annual Month of Giving Back! We will meet at the Greater Chicago Food Depository (GCFD) for networking and snacks, followed by a presentation and tour of their facility. Attendees will earn 1 CEU.
Greater Chicago Food Depository strives to end hunger by connecting food-insecure neighbors with healthy food and advancing solutions that address the root causes of hunger. In this visit to GCFD, you will learn more about the root causes of food insecurity and learn what steps the GCFD takes to address this issue. You will learn how GCFD designs, prepares, and distributes meals, as well as other ways GCFD assists food-insecure communities. You will learn about their job-training programs, and how the organization is changing to with changing demographics.
---------------------------------------------------------------------------------------------------------------------
When: Tuesday, October 10 at 4:30-6:30 PM CT
Where: Greater Chicago Food Depository, 4100 W Ann Lurie Pl, Chicago, IL 60632
Parking: There is ample parking. Facility is reachable via the Orange Line and the Pulaski bus.
Cost: Fees: $20 for students, $30 for members, $40 for non-members.
*$20 from each paid entry will be given as a donation to GCFD from the RCA.
Event Details:
4:30-5:30 Eating/Drinking/Networking
5:30-5:45 Presentation about GCFD and its mission
5:45-6:15 Facilities Tour
6:15-6:30 Q+A and Wrap-up
Presenter Bio:
The presentation will be given by Rick Crump, Masters of Public Health, MBA, who is the Community Nutrition and Health Program Manager for GCFD. Rick has passion for implementing evidence-based interventions as a means to improve the health and quality of life for vulnerable populations. In his role, he works with diverse populations grounded in improving people's health through policy development focused on food systems, hunger relief, and obesity prevention. He relies on evidence-based procedures to ameliorate the public health concerns of hunger relief and obesity prevention.
Note: RCA Members & Student Members must log into the members-only site, click on the "Events" tab and register through the portal to get the discounted rate.
+ Questions about this event? Reach out to Event Liaison Chef Jill Houk for futher support!
+ Need a CEU Point Certificate? Reach out to Chicagoland Regional Chair, Chef John Draz once you've secured your event ticket. Certificates will be emailed out after the event concludes and your participation has been confirmed.
Price
$40
Sign in
to receive the member discount.