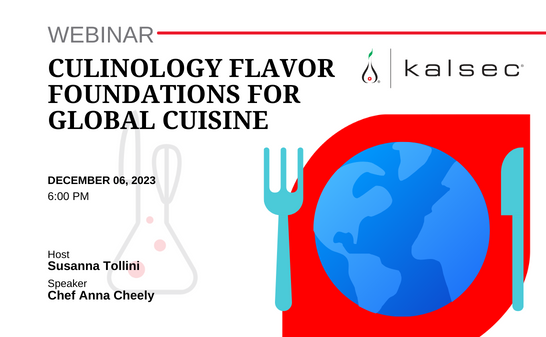 Culinology Flavor Foundations for Global Cuisine with Kalsec's Chef Anna Cheely
Dec 06, 2023
18:00 pm - 19:00 pm | Eastern
About this event
Join fellow RCA Members and colleagues as Chef Anna Cheely from Kalsec, as she demonstrates building foundational flavors to create sauce, condiment, dip, and dressing applications for notable global dishes. Anna's global inspiration will feature flavors of Latin American, African, and Asian cuisines with a mention of how these products collide in the world of QSR and food service. Establish and expand your culinology skills utilizing a toolbox filled with Kalsec flavors to develop gold standard executions and new taste experiences for flavors that far exceed customer's expectations.
Upon registration, you will receive a kit filled with Kalsec flavor ingredients and a variety of bases to support Anna's global inspirations. This workshop will be a mix of hands-on experimentation and ready-made flavors for you to taste and have fun with. This event is approved for 1 CEU.
*This event is limited to 25 people, who will receive a kit from Kalsec for this workshop. You will receive an email from a New England Regional Committee representative requesting the best address to ship your kit
**Kits will be shipped two weeks before the event date
Details at a Glance:
When: Wednesday, October 18, 2023 at 6:00 pm – 7:00 pm EST with Q&A to follow
Where: Zoom Link to be emailed later
Cost: $25.00 for Members, $35.00 for Non-Members, $20.00 for Students
Speaker Information:
Anna Cheely is a research chef and lead scientist from Kalsec with their Taste and Sensory Innovation Team. Anna is a board member of the RCA, presented at the RCA's annual conference in Atlanta in 2022, and Chicagoland RCA with Dataesstential's Associate Director & Trendologist Mike Kysoto. Our NE RCA held a virtual workshop Advantages of Allium Extracts with Anna in 2021. An attendee remarked "This was the best virtual workshop, filled with amazing flavors, that I have ever attended."
**Be sure to register soon, this is expected to sell out quickly. You won't want to miss this!
Questions? Reach out to New England Regional Chair, Susanna Tolini, for additional support. Need a CEU Certificate? Follow-up directly with the hosting Regional Chair to let them know. Cerficates will be emailed to you after the event concludes and your attendence is verified.
Price
$45.00
Sign in
to receive the member discount.