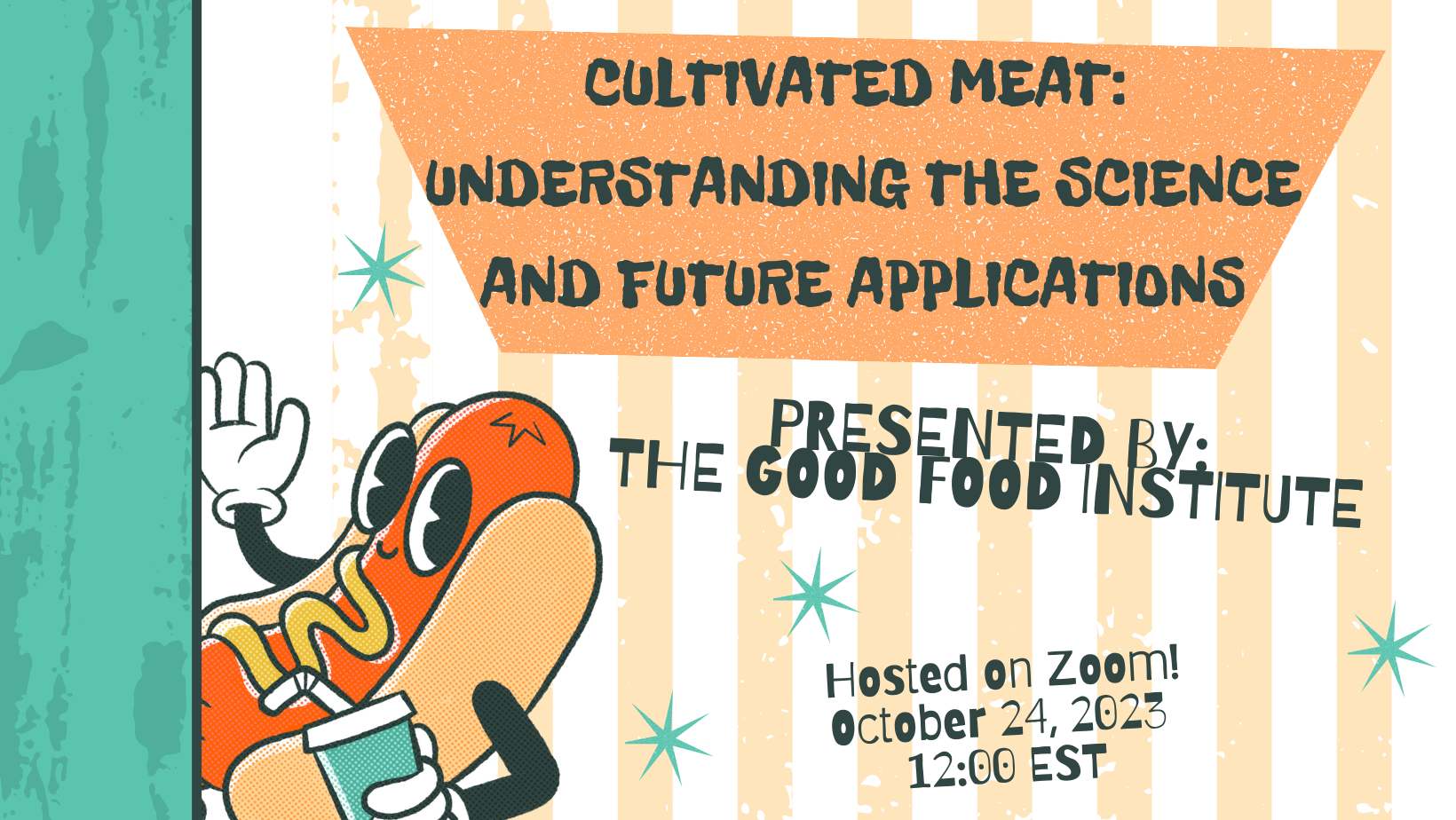 Cultivated Meat: Understanding the Science and Future Applications
Oct 24, 2023
12:00 pm - 13:30 pm | Eastern
About this event
As part of the Research Chef's Association's initiatives to promote sustainability initiatives coupled with our fundraising dinner at the James Beard House, we've partnered with The Good Food Institute (GFI) for a series of webinars and education opportunites for our community of product developers. This event is approved for 1 CEU.
This webinar will cover cultivated meat technology and describe how it's made. We will discuss the key technology-specific areas of the value chain that are critical for cultivated meat development, walk through studies examining the costs and environmental impacts of cultivated meat, touch on the regulation and food safety considerations, and end with a glimpse into the future of the industry in the coming years and how your members can help shape the industry. During this webinar, Dr. Claire Bomkamp, GFI's Cultivated Meat and Seafood Scientist, and Marika Azoff, GFI's Corporate Engagement Lead, will dive into the following topics:
Introduction to The Good Food Institute (GFI)
What is cultivated meat, and how is it made?

The technology value chain for cultivated meat production: cell lines, cell culture media, bioprocess design, and scaffolds.

The environmental impacts of cultivated meat

The costs of cultivated meat production

Regulation and food safety of cultivated meat

The commercial landscape; who is developing these products?

The future of the cultivated meat industry and the roles that chefs and food companies can play in the sector

Q&A
Meet Your Speakers:
Claire Bomkamp, Ph.D.: Lead Scientist, Cultivated Meat & Seafood
Dr. Claire Bomkamp serves as Lead Scientist, Cultivated Meat & Seafood at

The Good Food Institute (GFI).

She focuses on analyzing the technical landscape of the cultivated seafood industry, identifying bottlenecks, and engaging researchers in order to move cultivated seafood technology forward. She holds a PhD in neuroscience from the University of British Columbia and a bachelors in behavioral neuroscience from Western Washington University. Her academic research used both cell culture and computational techniques to understand molecular mechanisms of neuronal connectivity and function, and she has also been heavily involved in youth science outreach programs.
Marika Azoff: Corporate Engagement Lead
Marika Azoff leads The Good Food Institute 's (GFI) initiatives with foodservice companies, retailers, and chefs. She works with major U.S. foodservice companies and retailers, as well as influential chefs and culinary institutions, to help them understand opportunities in the alternative protein industry.
Note: RCA Members & Student Members must log into the members-only site, click on the "Events" tab and register through the portal to get the discounted rate.
+ Questions about this event? Reach out to Event Liaison Jessica Goldstein for futher support!
+ Need a CEU Point Certificate? Reach out to Regional Liaison, Jessica Goldstein once you've secured your event ticket. Certificates will be emailed out after the event concludes and your participation has been confirmed.
Price
$35
Sign in
to receive the member discount.